SBW-1 Thermocouple Temperature Transmitter
Introduction:
Integrated thermal resistance, thermocouple temperature transmitter apply high accuracy, stable performance of the temperature sensor (thermal resistance or thermocouple) and two wire system temperature transmitter module, the temperature signal is converted to industrial standard 4-20mA signal, and display control instrument  supporting the use of gas, liquid medium and solid surface temperature measurement and control or automatic adjustment, chemical, metallurgical, power, environmental protection, food and other fields to monitor the temperature.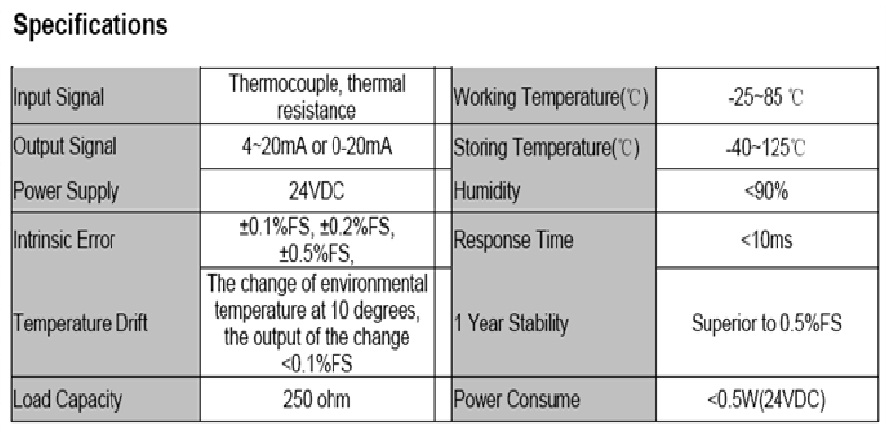 Features:
Ø Wide environmental temperature, static power consumption is low, safe and reliable.
Ø Good corrosion resistance, anti vibration.
Ø With two wire system 4-20mA, signal output, anti interference, can be transmitted over a long distance;
Ø High accuracy;
Ø With LED display.
Applications:
Ø The oil industry, chemical industry
Ø Metallurgy,
Ø Environmental protection,
Ø food
Ø Electric power.
CONTACT / INVITE OTOMATIS BAGI PENGGUNA SMARTPHONE
SMS : http://boleh.click/s/KlikSms
WA : http://disini.pw/w/ViaWA
LINE :  @LICOSTAR / http://disini.pw/l/ViaLine
BBM : http://ceksini.info/b/LewatBBM
Terimakasih Telah Mengunjungi Website Kami
liquidcontrol.web.indotrading.com